Meet our Coaches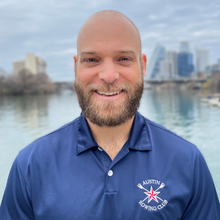 Taylor Brown
Masters Racing Team
Head Coach
Taylor has been coaching with ARC off and on since 2013 in many different capacities. Taylor competed at the collegiate and elite level, highlighted by three trips to Henley Royal Regatta, and multiple top three finishes at the IRA National Championship.
Taylor has over a decade of experience in high performance sports, and he works with elite and professional athletes in his mental performance consulting practice, Enduromind.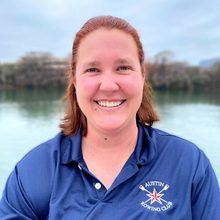 Megan Getman
Masters Club Team
Head Coach
Megan has been coaching master's recreational crews since 2016, and in fall of 2021 she became the head coach for the master's club rowers where she oversees practices and nurtures community among rec rowers and coaches – both sweep and sculling.
In 2001, Megan joined the local high school team and went on to row at Pacific Lutheran University.  While rehabbing a back injury in 2006, Megan started coaching the junior's program that shared the boathouse with her college team.  Megan continued to coach at CRI in Boston while studying for her grad programs.
Eventually a job brought her to Texas and ARC.  Megan is often joined by her dog, Winny.  In her spare time she paints and reads comic books.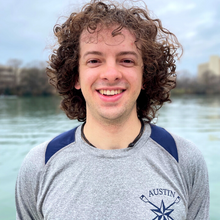 Sam Factor
Masters Club Team
Coach
Sam started rowing in his home town of Madison, WI in 2006 and rowed competitively in college at Wesleyan University in CT. He began coaching while he completed his Master's at Wesleyan, helping to coach the novice crew. After moving to Austin to work on his Ph.D. in astronomy at UT Austin, Sam started coaching Masters at ARC in 2017. Sam loves talking about astronomy so feel free to ask your burning questions!
Allie Aguilar
Masters Club Team
Coach
Allie (aka Alice) joined ARC in 2011. After a "break" in playing roller derby, she rowed with masters club crews, and later with the women's development and competitive teams while also coxing the men's racing teams. She has served on the board as the Program Director. Her background as an educator and a trainer led her to start coaching with ARC in 2015 working with masters, Learn to Row programs, and cox and bow clinics. By day, she's the Executive Director of a national nonprofit social justice movement technology organization, Progressive Technology Project, and still makes the time to play music, backpack, and run trails.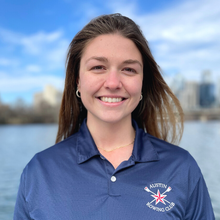 Margaret Dail
Masters Racing Team
Assistant Coach
Margaret has been a coach with ARC since August 2021 and assistant coaches the junior and master racing teams. She attended University of Texas at Austin and competed on the varsity women's rowing team. During her time at UT, Margaret raced the 2V8 all 4 years with 2nd place finish in 2019, 3rd in 2018 and 4th in 2017 at NCAA championships. For fun, she enjoys going to Barton Springs with a good book for some r&r.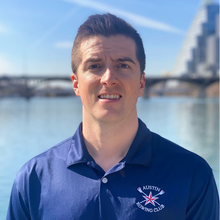 James Oldeschulte
Masters Development Team
Coach
James has been coaching the Masters Racing Development Team since Summer 2021.  He  rowed for the University of Wisconsin (Class of 2012), and James first was introduced to Lady Bird Lake during his college team's winter training trip to Austin. In his spare time, James enjoys rowing a pair dam to dam with his twin brother, David!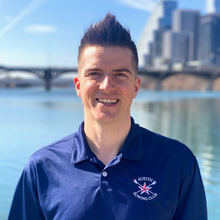 David Oldeschulte
Masters Development Team
Assistant Coach
Bio coming soon!

Duwyane Turner
Masters Club Team
Coach
Bio coming soon!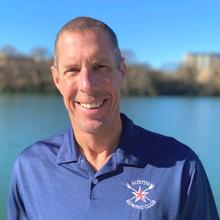 Patrick Kelly
Head of Junior's Program
Boy's Head Coach
Patrick has worked at ARC for over ten years. He has coached many ARC club members, having worked with Competitive Masters, Learn to Row,  Team Survivor, and Rec crews. Coach Kelly currently coaches the Varsity Boys squad with our Juniors Program. PK rows with the Masters Racing Team, and stays active with running and cycling. 
Coach Kelly started rowing as a college freshman at Loyola Marymount University. He coached collegiately for twenty years before moving to Austin and joining ARC. PK is married to his wonderful wife Laurie, who he met at ARC!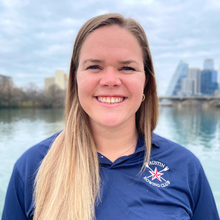 Astrid Wettstein
Junior's Varsity Girls
Head Coach
Astrid Wettstein is in her second year coaching at ARC and is the current head coach for the varsity girls. She grew up in Minnesota where she first started rowing after being introduced to the sport by her dad. She rowed at Princeton for four years and during this time medaled with the team at 4 NCAA championships and won the Women's Champ 8+ at the 2010 Head of the Charles. She also spent two of those summers training at Craftsbury as part of their GRP U23 program.
After graduating, she moved to Denver and spent several summers coaching at Craftsbury's sculling camps as well as a year coaching with University of Denver's club program. She also has a yellow lab (Scout) and tabby cat (Bert).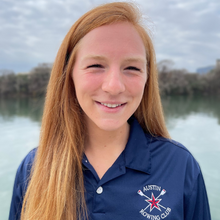 Hannah Heyerdahl
Junior's Novice Girls
Head Coach
Hannah began coaching for the juniors program at ARC in 2018. She rowed at University of Georgia and Georgia Tech for four years while pursuing her engineering degree.
She grew up in Atlanta, Georgia and moved to Austin following graduation to work as a traffic engineer. To stay active she enjoys rowing on the women's competitive team at ARC.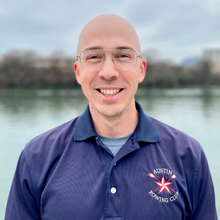 Ethan Nussdorfer
Junior's Program
Coach
Ethan has coached with ARC since 2016. He has coached rowers of all ages and skill levels, but his passion lies with the Juniors rowing team.
Ethan enjoys working with student athletes to develop not just rowing proficiency, but also leadership, teamwork, and perseverance. Ethan currently coaches the Juniors Varsity Women team.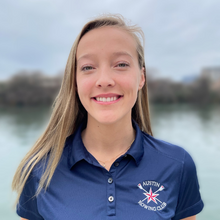 Megan Swanger
Junior's Program
Coach
Meg just started coaching at ARC this January 2022. Meg is working primarily with the Junior Competitive team and has been coaching juniors for 2 years now. She competed as a collegiate and high school rower and loves staying involved in the sport by sharing her passion with young rowers.
Meg graduated in marine biology and in her free time enjoys staying active and saving the fish.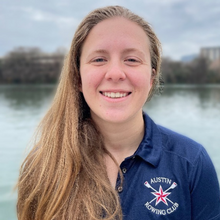 Liz Green
Junior's Program
Assistant Coach
Liz rowed for four years with Texas Crew, the club team at the University of Texas, and currently rows with ARC's master's competitive team.
In addition, she competes as a coxswain with one of ARC's long-standing master's recreational crews, the Rowing Stones. She is currently pursuing a master's degree in Sports Management at UT, and is excited to put her rowing and coxing knowledge to use coaching the junior's program.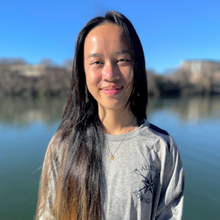 Macy Gomillion
Junior's Program
Assistant Coach
Macy joined the ARC coaching team this year, as the assistant coach for the Junior's Novice Girls Team. She joined the sport of rowing in 2017 as a coxswain (coxing), and later went to youth nationals in 2019 with the Varsity Girls Lightweight 4+.
When she is not at the boathouse, Macy loves hanging out at Zilker Park with friends and going on hikes on the Greenbelt.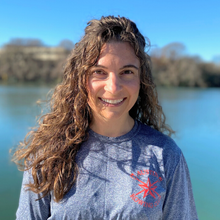 Eleni Gesch-Karamanlidis 
Junior's Program
Recreational Coach
Eleni has coached ARC's Junior Recreational team since 2016. Her sculling rowing career started when she was 5 years old in her hometown of Narragansett, RI and has taken her from the Charles to the open ocean off the coast of Maine.
Eleni is the Director of Business Development for 18F, the federal government's internal tech consultancy.